*This post may contain affiliate links, which means if you click through and make a purchase I may receive a commission at no cost to you. Please read my disclosure for more info.
This post is an updated version of my post with 50+ blogging networks to join, as the market is always changing and there are SO many influencer agencies now.
I have listed the top 20 agencies that have landed me or people that I know big bucks. I think the correct term now is something like 'influencer agency' and not 'blogging network'.
You can make big money with sponsored content, ugc creation and company collaborations. Your personal brand is worth a lot.
But what if companies don't approach you?
You can approach them.
But as a blogger with a small audience, it's more likely they will sell you a 'no, not yet' than a 'yes, great let's go' But there are other options, you just have to know where the brands are that are actively looking to work with bloggers!
If you want to learn everything about blogging, check out my Ultimate Guide To Blogging here.
What are influencer agencies?
Influencer agencies connect brands with influencers, that may be Snapchatters, Youtubers, Bloggers or Instagrammers. Or of course, a combination of any of these. I usually get paid to write a blog post OR to create an Instagram photo for something, but sometimes I also get paid to visit events or to create Instagram Stories.
How do influencer agencies work?
Influencer agencies are like a marketplace for bloggers and brands, they post an 'ad' and you can reply when you're interested. It's great, because, with the Influencer agencies as a middleman, you know that you're legally taken care of, that all the posting guidelines and payment settings are legal and accepted by both parties. Even though, you may earn more when reaching out to brands directly, starting out withInfluencer agencies is the best option to learn what brands are looking for. Read as many assignments as possible and you'll quickly learn what brands are looking for in collaborations. Here is an example of an assignment posted by Bank Of America: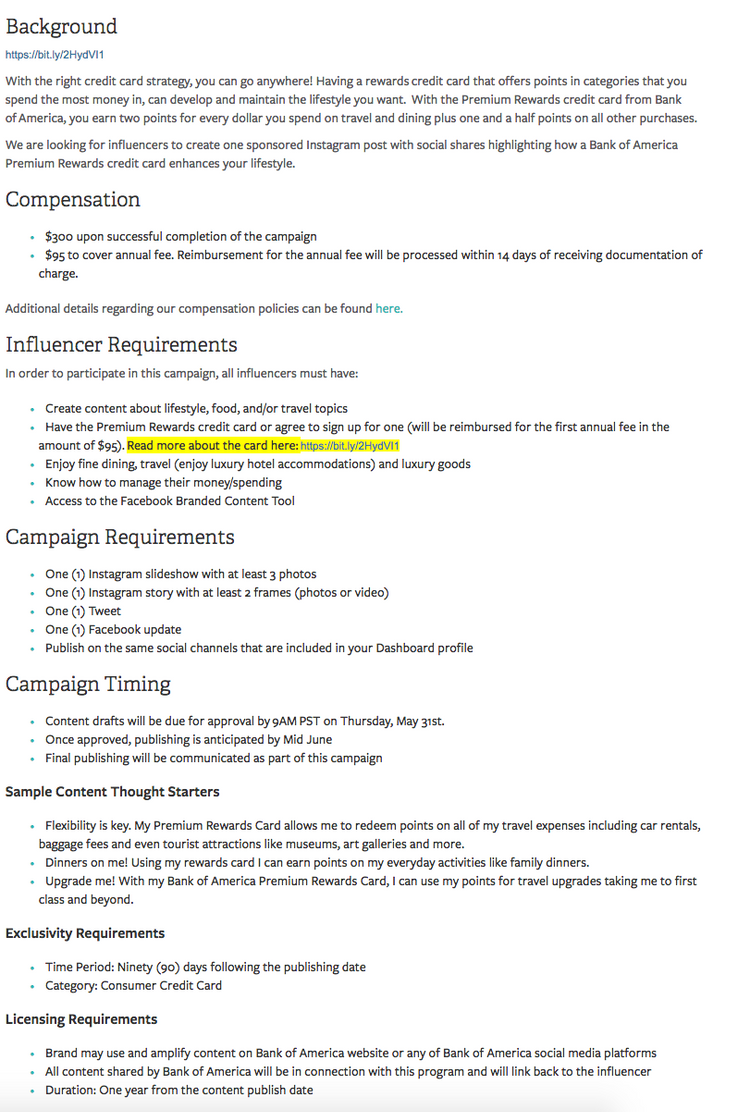 Not all networks work with 'drafts', sometimes you have to purchase the product or take the photo and submit it for review, and the brand will directly accept or decline your pitch. Sometimes you have to write a pitch, and they'll accept your idea and you'll start working on it together. Most influencer agencies work with 'pitches'. They provide assignments from companies and you can pitch as a blogger to participate. Sometimes they pay you with products, sometimes with cash. Other blogger networks or agencies (more exclusive) work like model agencies: you join them and they'll hook you up with assignments. These are the deals you wanna go for if you wanna make big money, but it's hard if you're just starting out or have a small following because they don't accept anyone and often require over 50.000 unique visitors or followers.
Are you ready to work with brands?
Before I give you some actionable steps to land your (first?) brand deal, please make sure you're ready.
Do you have enough influence? You don't want a 'failed' collaboration if they pay you, you have to actually deliver something beneficial to the brand otherwise you're basically stealing money from them. So this often happens when you buy 50.000 followers on Instagram and start pitching to brands, when your whole account and influence is fake. This is not what influencing means and there's no 'quick' way to earn money working with brands. It can take years to build your audience, so once you've done so, take good care of them and don't sell out to big brands, but also, don't undercharge what you're worth.
Connect more with your audience to create a good engagement rating. Because of all the fake bots, the buying of followers and more practices that are happening online, brands now look for a good engagement score. That means, following stats will become less and less important when working with brands, but how engaged your audience is even more!
Come up with ideas to collaborate and fit in brand deals naturally with your feed and blog. That means, write about products, people or things now, even when they don't pay you for it.
If you're not completely sure if you can check off all three points, you're probably not ready to work with big brands. If you are, yaay!
Want to learn how to work with influencer agencies? Download the checklist below to learn all about it:
Download the free guide with 20+ highest paying influencer agencies
Leave your email address to receive the free list with:
A list of 20+ highest paying influencer agencies to join as a micro influencer and that will pay you to write, publish, and review!
You might also like to read: