*This post may contain affiliate links, which means if you click through and make a purchase I may receive a commission at no cost to you. Please read my disclosure for more info.
Most of us do it: copy/paste hashtags on Instagram from a previously written and maybe even carefully researched group of hashtags somewhere stored in the cloud for easy access.
You post a photo on Instagram, and manually copy/paste the group of hashtags in the first (if you're quick!) comment to never be seen again but still benefit from the hashtags, right?!
But…. this way you're making one big mistake that's keeping you from growing.
Finding new hashtags for Instagram should be your top priority
You rarely update your hashtags and they're probably not making them shoot specific.
So Tailwind for Instagram has come up with a new tool you need to know about: the Hashtag finder.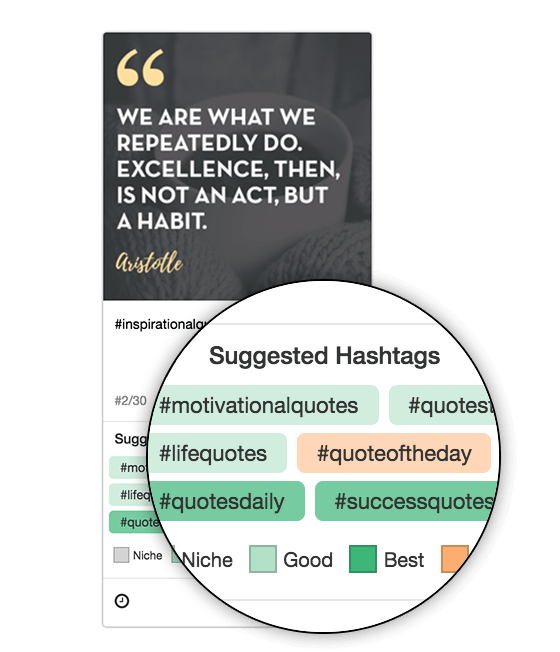 Use intelligent hashtag recommendations, unique to every photo. Quickly add new hashtags before scheduling and save top-performing lists.
You can quickly find more hashtag suggestions because they appear as you type and see its popularity when you hover over them.
How great? As having your profile and photos seen by new people is the only way to grow your account.
Something that I personally struggle with a little bit but that helps a lot with growing your account, is posting a lot, at least on a daily basis.
Using an auto post scheduler for Instagram like Tailwind can help you fight this problem.
Tailwind for Instagram publishes photos directly for you to Instagram business account if you want, and adds the hashtags you need to grow.
And the in-depth analytics will help you analyze where you should improve or go all in.
So start guessing and start growing on Instagram using Tailwind for Instagram, you can sign-up here for free using this link, no credit card necessary, just an Instagram account!
Not convinced yet? Have a look at these results others are seeing scheduling and automating parts of their Instagram strategy:

Download the free guide with 20+ highest paying influencer agencies
Leave your email address to receive the free list with:
A list of 20+ highest paying influencer agencies to join as a micro influencer and that will pay you to write, publish, and review!