*This post may contain affiliate links, which means if you click through and make a purchase I may receive a commission at no cost to you. Please read my disclosure for more info.
The only way to grow your business besides PR & Free Publicity and stepping up your business game, is using email-marketing. Email marketing is sending out (strategic) newsletters to your audience. This is also particularly interesting if you're a content creator (as read in the Ultimate Guide To Blogging). In this post all the new updates regarding email marketing, how to start and how to professionalize. And of course, everything in between! Let's dive into the world of email marketing…
Estimated reading time: 18 minutes
Ultimate Guide to email marketing
Introduction
Welcome to the world of email marketing. Email is a powerful tool for building meaningful relationships with your target customers. You can use emails to guide your prospects through the sales funnel, nurture them with valuable content, and ultimately turn them into loyal brand evangelists. Emails also help you generate more revenue by converting your leads into paying customers and encouraging them to buy from you again and again.
What is email marketing?
Email marketing is a form of direct marketing that allows you to reach customers via email. Direct marketing uses "third-party" sources (like the postal service or phone book) to connect with a customer and sell them something directly, so email allows you to do this online.
Email marketing can be used in conjunction with other digital marketing channels, such as social media advertising. Email is also an effective way for businesses to communicate with their existing customers and strengthen their relationships with them—which is crucial in driving repeat business.
And if you're a creator, this probably means you're sending newsletters to your readers.
Why do you need it?
Email marketing is a great way to reach your customers, building lasting relationships with them. It's also cost-effective compared to other forms of media, like Facebook ads or Google AdWords. It can be used for more than just making sales—it's an effective tool for increasing brand awareness and engagement. And if you don't have a lot of time on your hands, email marketing can help streamline the process of reaching out to new customers so that you can focus on other aspects of running your business (like making sales).
No time, ad blockers and stuff
Everybody is busy, and with the rise of ad blockers and the number of new blogs, it's getting harder earning all your money as a blogger with ads (display or content).
So what's next? I'll talk about that very soon, but the key is: building a great following (I'd recommend not on social media!) and creating stuff just for them. And the great thing: 'automations' make it possible to create things once, and have it all send out automatically afterward… this is such a gain of time for other stuff!! I love it.
Email is the best way to reach your customers in a personal and intimate way
Email is the best way to reach your customers in a personal and intimate way. As you may know, there are many ways that people can interact with you:
They can visit your website
They can call you on the phone
They can send you an email message
But only email is really intimate and personal. When someone receives a message from your company in their inbox, they're more likely to read it than if they got it via another channel like social media or even text (which also tends to be ignored).
How to get started with email marketing
I think we all know what a 'newsletter' is and you can easily get started for free with Convertkit. You collect email addresses from people that give you permission to email them, and you send out a newsletter every now and then. They sign-up via forms on your website, in the bio of your social media url etc.
Email marketing is important because it's the only way to directly talk to people. On social media everyone is 'shouting at each other at the same time' and an email is personal, most people read their emails or at least, check their inbox regularly.
In the future, (and now) newsletters will be one of the most important aspects for bloggers out there. I mean, I never really read social media updates from friends, but every once and a while I do go inbox zero, which means, I'll read your newsletter too! So if you're selling something I need to see and buy, email marketing is your word. So try to invest in it, starting with Convertkit. I can give away a free 30-day trial, no credit card necessary so you can try it out and see if you like it, and how much subscribers you can get in a month.
To claim the 30-days, click here, usually you only get 14 days for free.
So, I suggest you start building your list. And not just with Mailchimp, but with Convertkit because you can do so much more with them.
Create an email marketing software account
The first step is to set up a Convertkit account. They have a free plan, so you can try it out without committing to any payments or card details. Once you have an account, use their templates and get started. But I'll show you exactly what to do to set up your email marketing in this blog post so read on!
You can sign-up for a free account by clicking here, it will bring you to this screen:
I know it says start your free trial, but Convertkit can be used for free if you use this link. More on that later.
You can sign-up by adding your email and name, no credit card necessary. If you're signed-up you can get started and they will bring you to the start screen. More about what to do next because there to get started with email marketing, there are a few things that you want to think about:
What do I want to say?
What am I trying to achieve?
Who am I trying to reach?
How often will you send out newsletters?
What's the goal for the emails you send out? (this should be different for every email you send)
Why Convertkit?
There are many email marketing tools out there but I stick with Convertkit, besides the fact that it's FREE, here are 3 of the many reasons why I love them:
Email Sequences
Convertkit makes it really easy setting up email sequences, and that's also the main reason why I got Convertkit – years ago. I've been working on my new course/project, and automatic email sequences are a big part of my strategy. For example: when you sign up for my free e-mail course ' A Media Kit That Sells', you'll receive the course in your inbox, send with Convertkit. Without me ever pressing 'send'. It's all automated and you can set up a 'sequence' which includes multiple emails ready to be send out when you schedule them, over and over again, as long as new people sign-up. You can use one of the many forms, and embed them easily on your own website, for example the form of my free email course (sign-up if you haven't!):
Sign-up for the 7-day FREE email course 'A Media Kit That Sells'
Want to turn your influencer business, blog, website, shop or company into a successful press attention machine and a profitable business? Sign up for A media kit that sells.

Learn how to successfully pitch to the right person and how to totally rock every e-mail! This free e-mail course shows you a step-by-step process to create not only an awesome product to pitch your own product, but also how to convert the first e-mails into brand collaborations, sales and press mentions!

Tagging & link following
In Convertkit it's possible to give subscribers certain tags. In reality, this means you can create different subscribe forms and keep track of which subscriber comes where from.
This is not all, if you send a newsletter you can track who clicked on what link (!!). This is perfect for leads & serving your subscribers what they love.
Because of someone clicks on a freebie designed for bloggers, I'll send them more 'blog related' content, instead of other content. Everybody happy.
Pay for what you get
And last but not least, you pay for the number of email subscribers you have or you can always stay on the free plan if you want. If you want the additional tools, you pay per subscriber. So you start at $29 dollars for <1000 subs, up to >900.000 sub and $3,999 (uhm, but that's definitely, not me!).
Now, if you're down, you can get a free (no credit card necessary) trial with Convertkit, usually, it's 14-days, but I can give you one for 30-days. This means you get to try it for a whole month, see if you like it and how quickly you can build your list to 100, 500 or 1000 subscribers, everything is possible. Click here for the 30-day trial.
You can try out the tool on the website to see how much you pay as you go:
Here are some more reasons why you might want to consider Convertkit:
They have great customer service and make it easy to set up your account. You can do it yourself or pay someone else to help you out. (i'll help you with this part!)
You can easily create beautiful email templates that are responsive on mobile devices (which isn't always easy with other services).
They have built-in automation features so you can send automatic follow-up messages based on when people open your emails or click links in them. This helps increase engagement with readers over time! It also means less work for you since you don't have to remember what needs doing every step of the way!
It integrates with popular tools like WordPress (which means no more updating two different platforms) as well as Zapier and Google Sheets for automating actions within those systems too.
You can learn more about Convertkit by checking out their website here: https://www.convertkit.com
Create an email marketing strategy
Convinced to get started with email marketing? Here's how to get started with a strategy that helps you reach your goals like making more sales, having your following see your content or running sales. I'll explain a few sequences you should create, how to use the different types of forms, using tags to segment your subscribers, how to automate your email marketing and more.
How to set up (automated) email sequences
Setting up email sequences (click the link to head over to Convertkit's explainer) is one of the most powerful tools you can use to help grow your business.
They allow you to:
Send a sequence of emails to customers who do not respond to your initial email
Send a sequence of emails that guides customers through a purchase process, from initial interest, through payment and delivery, etc.
How to create your first sequence
Convertkit guides you through your first email course (sequence) with their template, but here's what it looks like. If you're better with video's, you can find their video explainer here: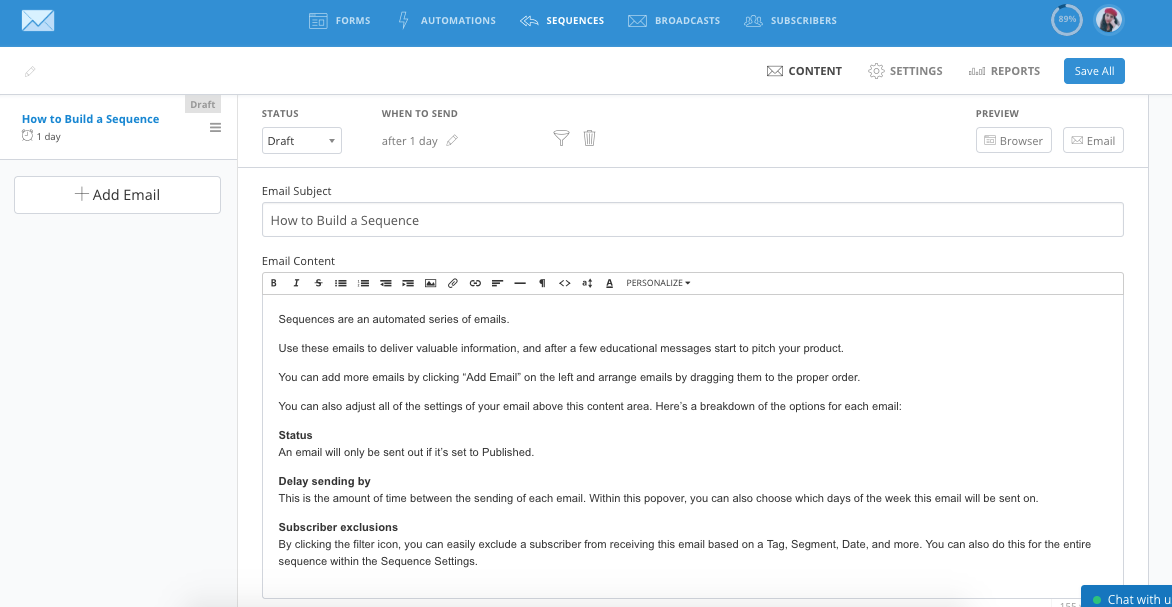 In the top, click sequences.

Top right, click '+ create sequence'

Name your sequence, this is for internal use only, so your subscribers don't see this name.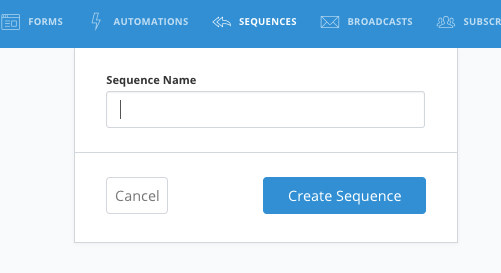 Next, you see this screen, this is where you type your content.
And here's a preview of what a complete sequence looks like, from my free course 'A Media Kit That Sells'.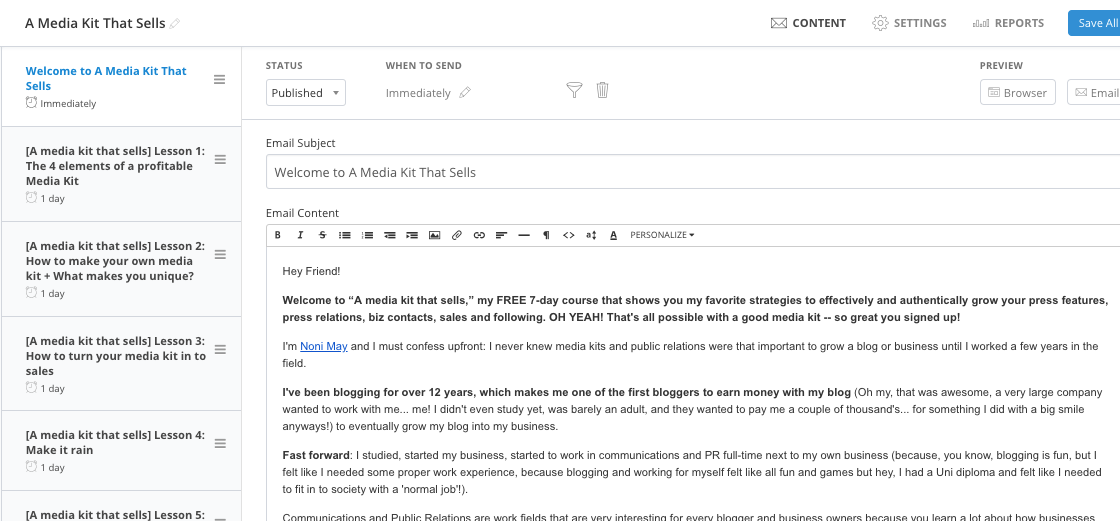 As you can see, the first email is scheduled to go out immediately when someone subscribes, but all other emails are set one day after the previous email.

Make sure you know whether the status is draft (when you edit) or published (when you're done) otherwise people will receive your draft content…. When you're not ready yet. Also double check if they're not all scheduled for the same day, people will go crazy if they receive 7 emails from you in one day. You check that next to the 'draft/published' button.
You might wonder, how do you get people into your sequence? So where do they sign-up? In Convertkit, you create a 'form' under forms (this is the homepage).
Once you've designed a beautiful form, head to 'Automations' in the top menu.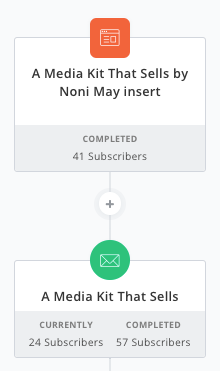 This is what you need to do: connect the form (I use different forms and landing pages for the same Sequence but I'll show you one) to the sequence by picking the form in the top, and connecting it to the sequence by clicking the '+' Click 'email sequence' and pick the sequence you've just created to link it to the form.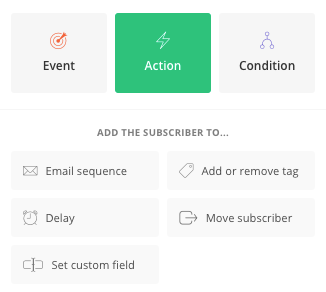 What you've just done now is:
Created a form so people can subscribe via your blog to your sequence (or course)
Created a course (or sequence)
Linked the two so they're connected

Make sure you toggle the 'publish' button on the top right, if it's not on 'live', they're not receiving the course, even when you've clicked 'publish' in the sequence settings.
If you feel confident, you can start with the more complex sequences. If you're feeling confident you can go on to create 'freebies' or 'content upgrades'.
How to write welcome sequences
A welcome sequence is a series of emails that are sent to subscribers as soon as they sign up for your email list, usually within 24 hours. This can help them get to know you better, understand what they can expect from your emails, and feel connected to the people on your list.
Welcome sequences are emails you send to your customers when they convert on your website or complete an action that requires some follow up. These can be simple messages thanking them for joining, or more detailed welcome emails that introduce the product and give tips on how to get started. To give you a few ideas of welcome sequence topics, have a look at these ideas:
The first thing you should do is decide what the goal of this email sequence is. Do you want them to take a specific action? Are there any additional products or services you want to sell them? Or maybe it's just about getting their attention so that when they're ready to buy, they can easily find out more about what's available from your company.
Once you've decided on what your goals are, then write out an email plan outlining how many times per week/month/year (and at what times in those periods) this sequence should go out. This will help keep things organized so nothing slips through the cracks!
If you're just getting started with Convertkit, setting up a welcome sequence is an essential tool for nurturing your new subscribers and making sure that they feel like they're part of a community.
How to write sales copy that converts
Sales copy is the art of writing persuasive content that convinces your audience to make a purchase. There are tools out there that work with AI and can help you draft some amazing content, for example this AI tool that will help you brainstorm ideas and help with content ideas. Check out my review for Copy.ai here.
Your sales copy should clearly explain what the product is, why it's worth buying, and why they should buy now.
When users are on a page with an offer or special deal, they expect a call-to-action (CTA). A CTA tells your prospects exactly what action you want them to take in order to complete their purchase: click here now! sign up today! get started free!
Get started with email marketing funnels
Email funnels should be fully automated and use 'triggers' to send out emails when an action or series of actions occur. You can make this as complex as you want, but we start out easy. This is why I urge you to use Convertkit, they make it as easy as possible with tags, sequences, and automation (that's made visual).
This makes it possible to send specific subscribers only the things they're interested in. So when you write about multiple topics and offer multiple freebies on your website, they will only receive the follow-ups that are specific to their situation, very handy!
Whatever type of funnel you want to set up, you'll first need to get marketing automation software. I do not recommend Mailchimp. So I suggest you invest in Convertkit because it's made for bloggers and it helps you not only set up your email marketing but also your marketing funnels, PR strategy, and content delivery.
The Automation You Need
A welcome email or sequence
First, we're creating an introduction for your new subscribers to tell them a little bit more about you. If you want them to open your emails and become part of your tribe, they need to know who you are.
Most people don't realize this when they set up their email marketing, but if you deliver freebies, people often get a simple email stating something along the lines of 'here's your download' and that's it. Then you send them an email later, but they might have no idea who you are. If they found your freebie via Pinterest for example, they might have never even visited your blog. So introduce yourself in an automated email sequence!
Things you can include to make people familiar with you:
Your name, your blog's url, do you work fulltime or parttime as a blogger? What else do you do?
Your social media accounts
Top blog posts for new readers
Your products
What they can expect signing-up for your newsletter (how often, type of content etc.)
The welcome email or sequence is also a great way to explore what your subscriber wants and what level they are when it comes to what you offer.
Re-engagement sequence
Let's be real. There is no need in 'collecting' email addresses of people that have no interest in you. When they've opened the welcome emails or received a content delivery, but never read your emails after that again, it's time to decide to part ways or stay together.
You basically pay for every subscriber so it's not only costing you money, if you're not providing any value for a particular subscriber there's no need to stress them out by dropping in their inbox right?
So it's time to set-up a re-engagement sequence to see if they are still with you.
Plain said this sequence should be something along the lines of 'If you're still interested in receiving these emails, please confirm'. You can follow up this email several times and just unsubscribe the subscriber if they never reconfirm. To make them follow up- there are different strategies for playing out the 'FOMO' game or 'providing a great offer'.
Convertkit has set up an automatic re-engaging funnel for you here, you only have to (one-click) import and 'customize' it.
Abandoned Cart
Sometimes people create an account but don't purchase anything. You can send them a reminder to complete their order with an abandoned cart funnel.
Exit emails
Don't feel bad for people that leave you, it's a good thing! This means you work with a better-targeted audience ok? Now, let's get into a great exit email.
There are multiple reasons why people unsubscribe, from receiving too many emails to not needing the content. And you should totally work on that! Come up with a few reasons why people unsubscribe from your list (or just ask!) and then, create a follow-up sequence for each specific reason. Create better-targeted newsletters or offers and make sure people know what they signed up for before they even sign-up (you can do this in the confirm subscription email or the welcome email!).
In a later lesson we'll discuss funnels a little bit further, just start with a simple email course (sequence) in Convertkit today, and write a welcome email.
Set up your newsletter form, collect subscribers and come up with a few ideas for your upcoming newsletters. How can you provide value for your readers? How often will you send out the newsletter?
Planning out your newsletter
As you can see from this guide, there are many ways to use email marketing as part of your overall strategy. You should focus on what works for your business and use these tools to build a strong email list that will grow over time. If you have any questions about the content above or would like me to add something new to this article, please send me a message via my blog!
Ready to use Convertkit for your PR strategy? Check out this post or the Ultimate Guide To PR and Free Publicity:
You might also like to read: